At our October 25 Membership Meeting we accepted the new CTU officers by acclamation as allowed by the constitutional change we passed last fall.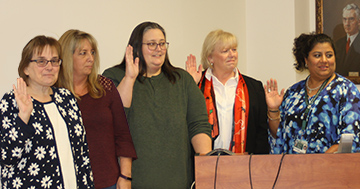 Left to right, above, our newly elected leaders are Director Pam Sloan, Audit Committee Member Stephanie Six, Treasurer Tracy Rich, President Deb Bittner, and Director Carmen Elliott.  Director Jan Wallace was not available for the photo.
Tracy Rich's election to treasurer left her former secretary office empty.  Michelle Jenkins (left) stepped forward and was elected secretary unanimously.
Members also transferred the costs of negotiating our new health care contract from the contingency fund to operations.
We had 68 members attend either in person at Anthony Hall or via Polycom from Grand Rapids and Detroit Medical Center.
Our union thanks those who stepped forward to serve and everyone who could attend the Membership Meeting.