Links:

Project 60/50. CTU continues our involvement in MSU's year-long conversation on civil rights and human rights. Known as Project 60/50, the year of activities acknowledges 2014 as the 60th anniversary of the Supreme Court's Brown vs. Topeka Board of Education decision and the 50th  anniversary of the passage and signing into law of the Civil Rights Act of 1964.  The Office of Inclusion and Intercultural Initiatives provides a regularly updated list of 60/50 activities at http://www.inclusion.msu.edu/Project6050/March%20Forward.pdf.

60/50+40.  The CTU added the "40" to recognize 2014 as our union's 40th anniversary.  Since 1974 we have committed ourselves "to the empowerment and dignity of the individual; democracy; diversity; and social justice through pursuit of fair wages, safe and humane working conditions; and the right to have a voice in decisions that affect CT's lives" [CTU Mission Statement].  CTU joined 60/50 both for our own edification and to make sure labor's contributions were included in the discussion.  Members are encouraged to check out the list of 60/50 activities above and join the conversation!
Martin Luther King Jr. championed the necessity for unions in the fight for social justice.  Several well-known labor quotes by MLK promote collective bargaining and celebrate its contribution to the movement for equality and civil rights.  In this era of growing inequality, the CTU believes the truths he spoke are more important than ever.
César Chávez started his career as a migrant worker and went on to become one of the best known and most successful labor leaders and organizers of modern times.  He dedicated his life to improving the lives of migrant workers and all workers.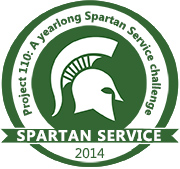 What's your 110?  As part of the Project 60/50 campaign, MSU's Center for Service Learning & Civic Engagement initiated Project 110: The yearlong Spartan Service Challenge.  The "110" represents the 60 years since the Supreme Court's Brown vs. Topeka Board of Education decision and the 50 years since the passage and signing into law of the Civil Rights Act of 1964
Participants in Challenge commit to doing 110 hours of volunteer work over the next year.  All volunteer work and participation in the 60/50 conversation counts.  We can take advantage of volunteer opportunities suggested by the program, or report volunteer work we are already doing.  We can log volunteer work we do on an individual basis – shoveling the sidewalk for an elderly neighbor, for example—or with our churches, non-profits and other community organizations.
By providing an example, CTs can encourage others, especially students, to get involved.
This is one way we can show our communities just how much CTs give back.
The Center for Service Learning and Civic Engagement is utilizing GiveGab, "the online social network for volunteers," to coordinate the challenge.   Follow these instructions to sign up.