We have one candidate for each position up for election in October.
Because none of the races are contested, the constitutional amendment we passed last year makes the election unnecessary.  Instead, the constitution requires the unchallenged candidates to be affirmed by acclamation of the membership and to take the oath of office at the October 25 Membership Meeting.  If we don't have a quorum at the meeting, the constitution directs the current Executive Board to meet during the Membership Meeting and accept the candidates to constitute the new Executive Board and Audit Committee.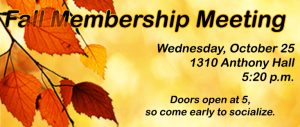 Why did these individuals step forward to fill leadership positions in our union?  Find out by reading their candidate statements in the upcoming October newsletter.  Their statements can provide insight into the motivations and goals of our leaders.
We thank the Elections Committee and others who volunteered to help with the elections.  Arrangements regarding meetings, polling places, lists of volunteers, etc. were already underway by the nominations deadline of September 12.  The Elections Committee will oversee the portion of the October 25 Membership Meeting that pertains to the installation of officers.